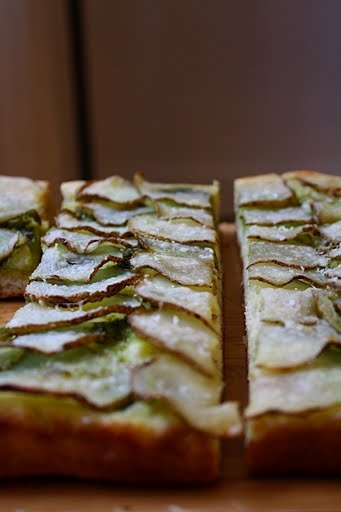 Inspired by a
Log Lunch
recipe, adapted from Gourmet 1990 via Epicurious. I made this for a dinner at Alexis' house with her mom and it was a big hit!
2 1/2 teaspoons active dry yeast
4 1/2 cups all-purpose and/or bread flour
2 cups mashed cooked russet potatoes (about 1 1/4 pounds)
1 tablespoon salt
2 garlic cloves, sliced thin
2 teaspoons chopped fresh rosemary (dried is ok too)
1/4 cup olive oil
1 1/2 pounds small red or purple potatoes

1. In a small bowl sprinkle the yeast over 1 cup warm water and let it proof for 5 minutes, or until foamy.

2. In a large bowl combine 4 cups of flour with the mashed potatoes and the salt until the mixture resembles coarse meal. Add the yeast mixture, and stir the dough until it is combined well.

3. Turn the dough out onto a floured surface and knead it, incorporating as much of the remaining 1/2 cup flour as necessary to prevent it from sticking, for 8 to 10 minutes, or until it is smooth and elastic. Form the dough into a ball, put it in an oiled bowl, and turn it to coat it with the oil. Let the dough rise, covered with plastic wrap, in a warm place for 1 1/2 hours, or until doubled.

4. While the dough is rising, in a small bowl stir together the garlic, the rosemary, and the oil and let the mixture stand, covered.

5. Turn the dough out into an oiled 15 1/2- x 10 1/2-inch jelly-roll pan, press it evenly into the pan, and let it rise, covered loosely, in a warm place for 30-45 minutes, or until it is almost double in bulk.

6. Using a mandoline or hand-held slicer cut the small potatoes into paper-thin slices, arrange the slices on the dough, overlapping them, and brush them with the oil mixture, discarding the garlic. Sprinkle the focaccia with salt and pepper to taste.
7. Bake it in the bottom third of a preheated 400°F. oven for 40 to 50 minutes, or until it is golden. Let the focaccia cool in the pan on a rack and serve it fresh out of the oven!