This recipe is healthy and hearty, and has great spices. Adapted from this blog: http://dlynz.com.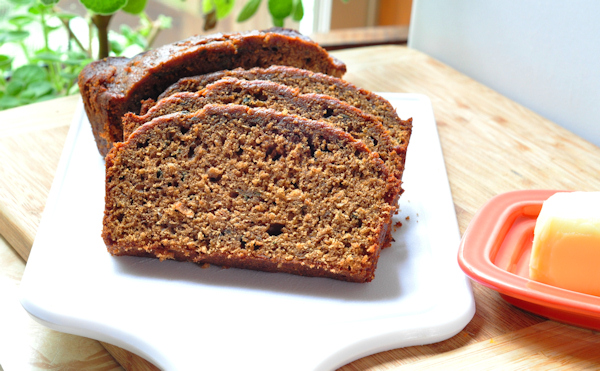 Preheat the oven to 350 degrees.
Grate enough zucchini to measure 2 cups
Mix in 1 teaspoon kosher salt
And 1 cup regular oats, and let sit for about 30 minutes. This will draw some of the moisture from the squash and allow the oats to absorb it, which will soften them up a bit.
In another bowl, whisk together:
3 1/2 cups flour (I suggest half white and half wheat)
3/4 cup granulated sugar
1 teaspoon baking powder
1 teaspoon baking soda
1 teaspoon cinnamon
1/2 teaspoon allspice
1/2 teaspoon cloves (optional)
1/2 teaspoon cardamom (optional)
Add to dry mixture: 1/2 cup chopped walnuts
Add to zucchini mixture:
3/4 cup dark brown sugar (light brown is ok)
3 eggs, slightly beaten
1/2 cup vegetable oil
2 teaspoon vanilla
1 tablespoon freshly grated ginger
1 tablespoon lemon zest
Mix the wet ingredients into the dry mixture, until combined. Divide evenly between 2 greased 5 x 8 bread pans. Bake for about 45 to 50 minutes. A toothpick inserted near the center should come out clean. Remove from pans and cool on a wire rack.